Since almost the beginning of the commercial airline business, junior pilots have had to toil years in the second chair waiting to win a pair of captain's wings. Now Delta Air Lines Inc. is offering them the chance to vault into a captain's seat in as little as six months. The catch? The promotion requires flying an unloved, aging plane nicknamed the "Mad Dog" that Delta plans to retire in three years.
The McDonnell Douglas Corp. MD-88 jets are the oldest aircraft in operation at any major U.S. carrier. They come with quirks such as glare-prone skylight panels called "eyebrow windows" that were common when pilots sometimes navigated by the stars. And they're so noisy that some New York politicians, including U.S. Senate Minority Leader Chuck Schumer, cheered when Delta recently pulled the planes from New York's LaGuardia Airport.
Now the jets are helping to topple traditional timetables on pilot careers, as Delta awaits deliveries of new aircraft and contends with a graying pool of aviators. Senior pilots shun the MD-88s for newer Airbus SE or Boeing Co. jets, now the industry's standard equipment. But some junior co-pilots who covet the prestige and higher salaries awarded captains aren't so choosy.
"The good side of M-88 is that there is such HATE for it that seniority happens in crazy fashion," read one recent post on a Delta pilot forum. "In one year you will be able to hold holidays and weekends off."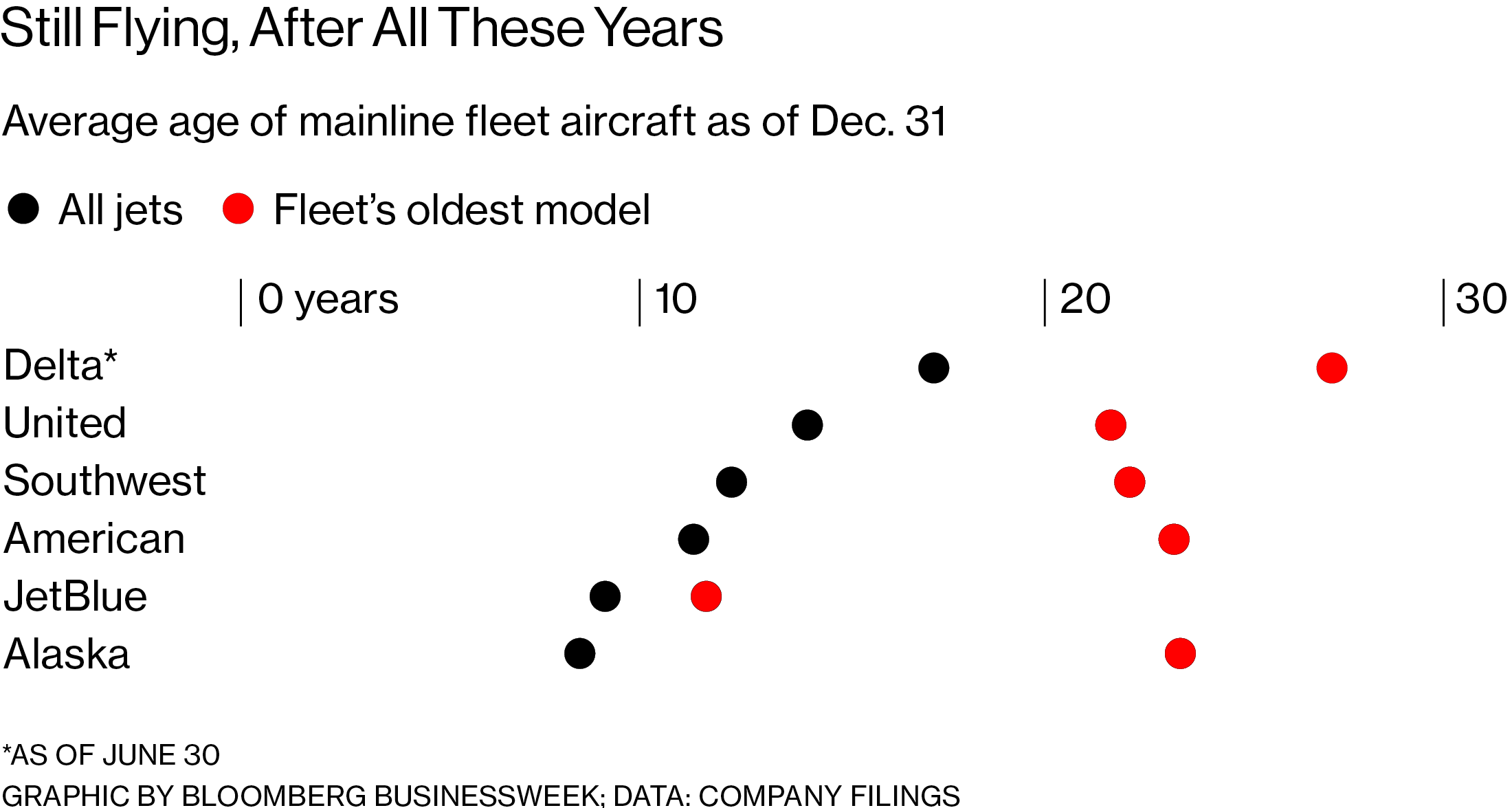 Unionized pilots typically progress from the right-hand first officer's seat to the left-hand captain's perch, and from small to large jetliners. Moving from first officer to captain historically was an 8- or 10-year process and occasionally has dropped to two or three years in boom times, says Kit Darby, a pilot consultant based in an Atlanta suburb. Veterans with the most seniority get first pick of choice assignments, such as flying the Boeing 747 jumbo on routes to Asia. Junior pilots might only claim a captain's seat on the 110-seat Boeing 717, or a first officer's role on a larger plane.
But some Delta pilots who are willing to accept the worst assignments—flying an MD-88 or sharing a crash pad in Queens and flying out of New York—are upgrading fast. One pilot hired in January was a captain by June, according to a company memo to pilots. Moving up within six months is "not unheard of," says Delta spokesman Michael Thomas, and less-tenured pilots flying the MD-88 aren't any less qualified than those at the controls of bigger jets. "We hire folks who have the qualifications and airmanship and aptitude to become captains with Delta," Thomas says.
Still, that's the fastest career development for pilots among the Big Three U.S. carriers, according to pilots and industry advisers. Some American Airlines Group Inc. pilots have advanced in less than two years on the 99-seat Embraer E190 regional jet, American spokesman Joshua Freed says. United Continental Holdings Inc. has no similar cases of such quick promotions, according to a United spokeswoman.
"Almost every pilot I talk to, when I tell them people are upgrading to captain within a year, they all go, 'Wow, you're kidding!' " says Louis Smith, president of the firm Future & Active Pilot Advisors. "It's almost unheard of in the business."
Upgrading can mean a big bump in pay. A first-year first officer at a major airline makes about $86 an hour with a significant raise in Year Two, while a new captain makes about $220 an hour, Smith says. Pilots say about $180,000 is typical annual pay for first-year captains after they've completed training.
Other carriers may wind up with similar fast-track options if the shortage of airline pilots gets worse, as expected. About half the pilots at 10 large U.S. airlines will hit the retirement age of 65 by 2026, Darby says. The problem is more acute at regional carriers, which are lobbying to relax a requirement that commercial pilots have at least 1,500 hours of flight time.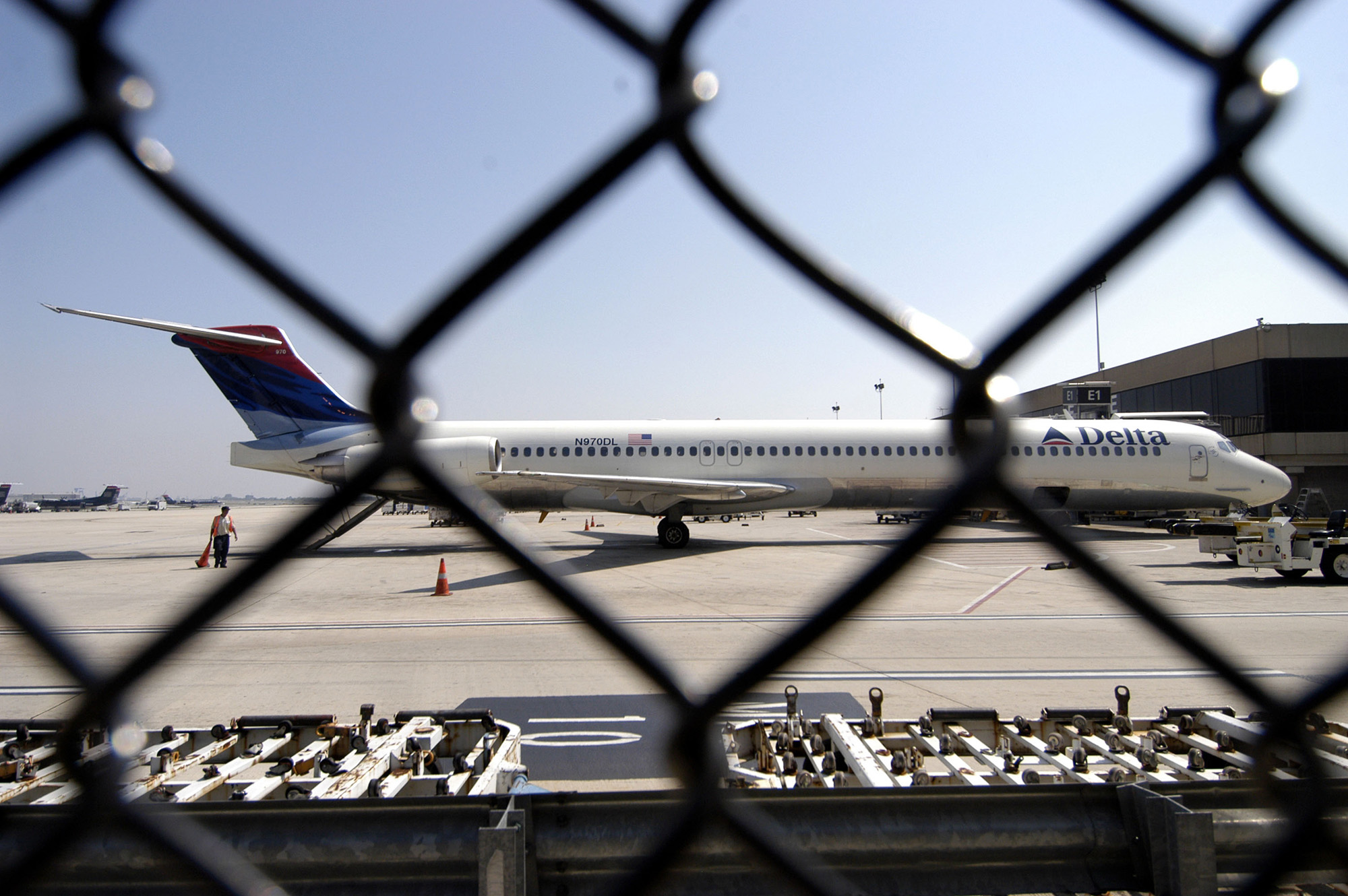 Lifestyle and pay packages that reward co-pilots on long-haul aircraft are also making it harder for Delta to staff the MD-88. A first officer with 10 years' experience on the long-range Boeing 747 makes about $221,000 a year, roughly the same as a first-year captain on the shorter-range Boeing 717, according to Delta pay tables viewed by Bloomberg. And Delta's Thomas says that the MD-88, the Boeing 717, and other short-haul planes require pilots to fly many more legs than longer-haul jets, and some aviators don't want that kind of schedule.
"International widebody pilots hold the best schedules and work the fewest days because of the nature of the flying they do," says Sam Mayer, a longtime American Airlines pilot. "A lot of guys are finding out they'd rather stay at first officer" on the bigger aircraft than move up to captain of a smaller jet with a less desirable schedule.
The MD-88, a workhorse on shorter flights since 1988, has controls and checklists that feel antiquated and counterintuitive to pilots who face demanding training before they can switch aircraft types. Then there's a cockpit described as a "cage" by Dennis Tajer, who flew a similar-vintage sister McDonnell aircraft nicknamed the Super 80 for a decade at American before ascending to the Boeing 737. The McDonnell flight deck is "very small, narrow, and unforgiving for any pilot that would like to spread his or her wings," says Tajer, a spokesman for American's pilot union.
Still, the MD-88 has its fans. Delta has redone the interiors of even its older jets, so passengers probably can't tell it's so old, says Rene de Lambert, who pens a Delta frequent-flier blog called Rene's Points. Also, the plane's configuration, with two seats on one side of the aisle and three on the other, means the MD-88 has fewer dreaded middle seats than many planes, he says.
"Yeah, if you're in the back it's noisy, but most people are going to be sad to see it go," de Lambert says. "It will be missed. Of course, it's not flying over my house."
The MD-88 is almost certainly headed for aviation's boneyards. There are only two other operators beyond Delta: Allegiant Air, which is also retiring its fleet, and an obscure Iranian carrier, Taban Air, according to Planespotters.net. "Delta has remodeled all of their MD-88s, but it's like an old car that's been spruced up," Tajer says. "It's not like sitting down in a brand-new Cadillac." —
BOTTOM LINE –
Airline pilots have typically waited up to a decade to move from a first officer's spot to a captain's seat. But a shortage of pilots is accelerating the timetable.
More From this publisher : HERE
Recommended Products
If you like our content help us with a share… or two …  
Also -  I have some free stuff for you .......
Nr 1. Top 10 Email Marketing Mistakes. Which of these mistakes do you make?
Nr 2.  You can learn about : The hottest social networking site that will send an unlimited stampede of traffic to your site - for FREE! How to quickly locate a swarm of hungry buyers using "information portals"! The fast and easy way to use simple images to siphon targeted traffic, on command! Learn how to get the most possible traffic from Instagram, and make sure that traffic converts! And much more ...
Nr 3. It's no secret… Facebook is an incredible place to get tons of free, viral traffic. But… most people are going about it all wrong.  How many of these mistakes are you making? Download the free report to find out.
Nr 4.  Special free report .  It's called "Operation Midas Touch" and you can download it here...
The report features a surefire method for generating at least $1000 per week online,without a website or product of your own!
Nr 5.  Instagram is still one of the hottest ways to get a LOT of traffic fast. All by sharing images. Sounds easy enough, yeah? Well, yes and no. If you want to really start driving a lot of  traffic and making sales using Instagram then you should download this report.
Nr 6.  When it comes to creating a product online there are so many ways to approach it. Wouldn't it be great to just get the meat of it all so you can get started faster? Well, the good news is, today you can download a guide called the Product Creation Formula Quickstart Guide. It's as the title suggests - a Quickstart guide. You'll get a list of action steps to take right away. Download your copy today !
Nr 7. Would you like to finally USE all of that dusty PLR you have sitting around on your harddrive? Or maybe find the resources for the best PLR available - at the best prices? What about how to use that PLR to make you money with just a few minutes of work. Well, you're not going to want to miss this!
  Nr 8. Buzzfeed's top post has more than 21 million views. Think about that for a sec… ONE of their articles has had over 21 million people who have read it! And they have thousands of articles... what would you do with that kind of traffic? A friend of mine hacked their method and was able to use it to get 11,592 targeted new subscribers in 2 weeks on their very first attempt!
Nr 9. Push notifications are one of today's hottest trends in website traffic and conversions, and for good reason. Studies have shown that as many as 40% of people will opt-in for push notifications, which is about TEN TIMES the rate of people who opt-in for emails! That's huge! Not only that, but they're also highly effective at pulling clicks, as well. Some studies have shown CTR at an average of around 40%, with highs of as much as 80%! Again, that's huge!
Nr 10. Would you like to know how to get more money from the exact same number of website visitors you're currently getting? Even if you're website is getting as few as 1-2 visitors a day, this report will show you how to increase your profits using these few handy hacks.
Nr 11. People have now realised that it's not the size of the list which matters, it's the quality. ... and the only way to create a quality list is by launching your own products. Let it be $7 ebooks, $17 info products, $27 video training product or software's... all of these work. My good friend Kevin Fahey has is revealing how he's launched over 20 products in the past 4 years, many of them top sellers. Needless to say he's banked a handsome amount in this time.
Nr 12. Do you ever feel that the man you like or even love, just doesn't see you or desire you in way you want him to? Or... maybe you're able to get a man's attention though not the right kind of attention? Or... maybe you're still single because you wait and wait for men to approach you first? What you may not know is that the way we flirt will either attract the "wrong" man for us or the "right" man.
Nr 13. When it comes to getting sales and leads online, there is ONE thing that 95% of marketers use... it's called a LIST. My friend Jimmy just released a free book that explains WHY a list is important and how YOU can build your own list. It's available right here (and it won't cost you a penny)
Nr 14. If you have tried everything, and still aren't able to get your Ex back, then you need to pay attention.
Nr 15. What if I told you that you could make ANY woman WANT to do ANYTHING for you? Would you think I'm crazy? Well... what If I told you that you could also make her LOVE every minute of it and come back for more?
Nr 16. I have a special free plugin for you today. It's called "Covert Hover Mini"
This plugin will triple your blog traffic by compelling your visitors to share your images on social media. This is some really clever stuff and it works like a charm. After you grab your free plugin, don't  forget to read the free bonus report as it will show exactly how and why this strategy works like crazy.
Nr 17. The days of being able to get away with a basic WP theme and a pic or two are gone, your site needs to look good. Even Google are looking for you to have engaging graphics on your site. But getting good quality graphics made for your site is a pain, AND it will cost you both time and money (if you outsource it). But I have a special free download for you today. A virtual treasure chest of over 21K profit pulling graphics you can start sing today to generate more traffic & sales!
Nr 18. 20 professional full HD background videos. These background videos are perfect for giving your videos that extra kick they need to stand out from the crowd Oh yeah they are in full 1080p HD too, I hope you'll enjoy them.
Nr 19. If you've ever failed to create a WordPress site of your own or typically waste hours & even weeks trying to figure it all out on your own....
Nr 20. No doubt, you've seen all of the video launches lately! There is a reason for it... Video marketing is a GREAT way to make money, and with the recent creation tools making it super accessable for anyone to get started... It's no surprise that more people are making videos. However... there is a missing element to most video marketing products...
Nr 21. For the first time ever... You can get the straight scoop on how someone is selling over $1,000,000/year of t-shirts on Facebook!
Use them  .... and have fun !
Tags: businessweek-magazine technology
Related Post "Delta Will Promote Pilots to Captainif They Can Fly This Aging Plane"