Tesla just unveiled the world's fastest long-haul semi truck, which can go from 0 to 60 miles per hour in only 5 seconds while pulling a trailer. The much-anticipated reveal was the subject of speculation for weeks, with observers wondering whether it would be a freight industry curiosity—or a transformation. The initial take is that it might be the latter.
And that wasn't even the biggest surprise of the night. 
What followed was a scene straight out of the 1980s sci-fi TV show Knight Rider. With the trucks dominating a stage inside an airport hangar and a raucous crowd gathered around, the trailer of one of Tesla's Semis tilted up, a cloud of smoke swirled, and out came an all new Tesla Roadster, a reprise of the vehicle that first defined the company as a maker of ultra-fast electric cars. Before the Model 3, Model X, and Model S, there was the Roadster. But this was something very different from the original. 
The new Roadster is the quickest production car ever made, by a good margin, clocking 0 to 60 in 1.9 seconds in the $200,000 base model version. Even crazier is the car's unprecedented battery range: 620 miles on a single charge. At the invitation of Tesla Chief Executive Officer Elon Musk, the crowd of Tesla owners and enthusiasts at the Hawthorne, California, airport jumped the barriers and swarmed the vehicles.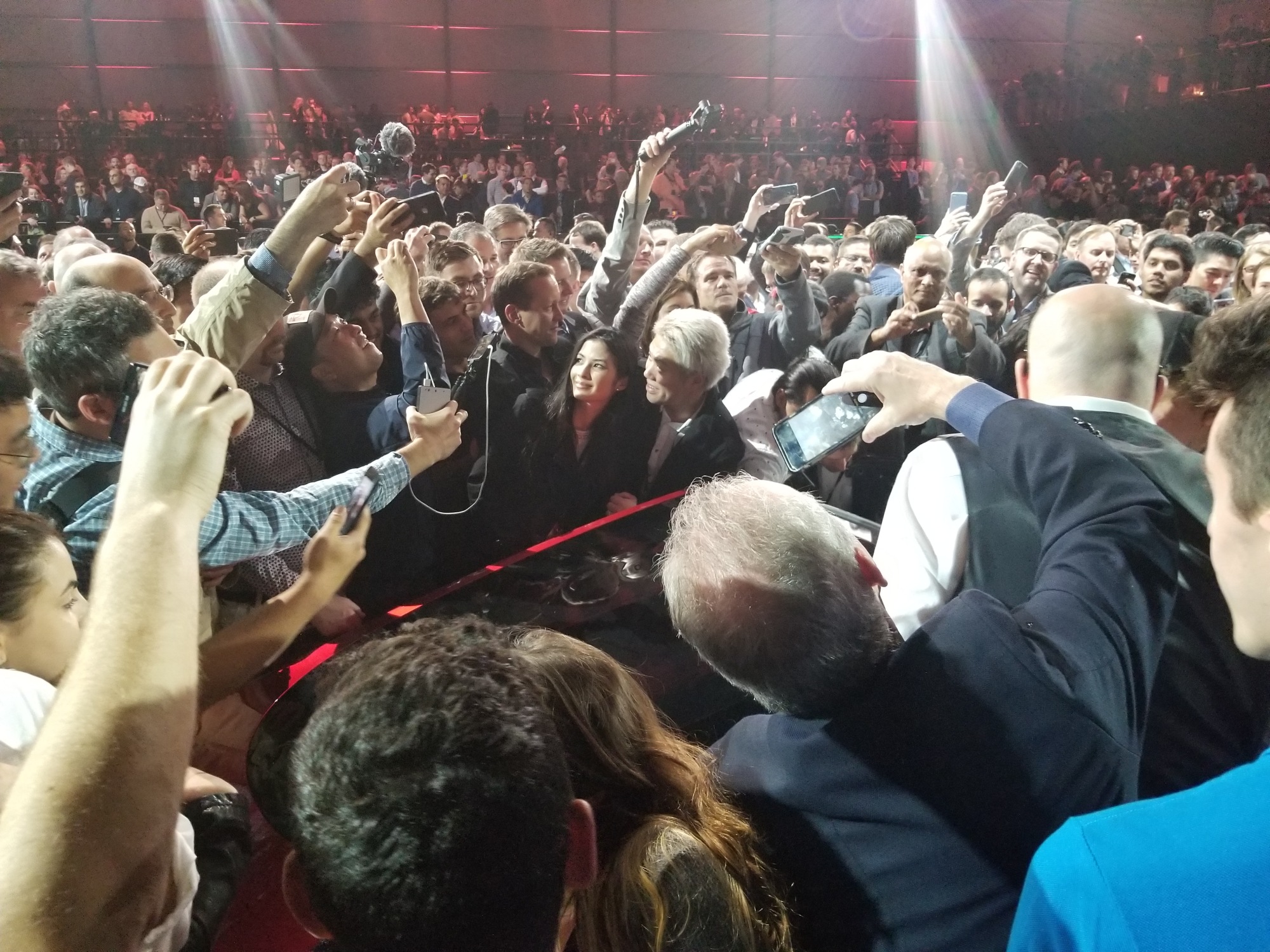 "Wow, that was cool!" Toni Sacconaghi, a Sanford C. Bernstein & Co. analyst, wrote in a report to clients after the event. "Tesla's addressable market for Semi Trucks may be considerably larger than we had estimated."
Musk, 46, is known for being a showman, and Tesla is in the midst of a slower-than-promised rollout of the Model 3, the critical mass-production electric car that will make or break the automaker. The two new vehicles unveiled Thursday night could be seen as distractions at the very time when the company needs to be focused.
As central as the Model 3 is to Tesla's survival, though, the Semi and Roadster are formidable in their potential to generate revenue. Of the two, the most important for Tesla's future, the future of transport electrification, and the environment in general is the Semi.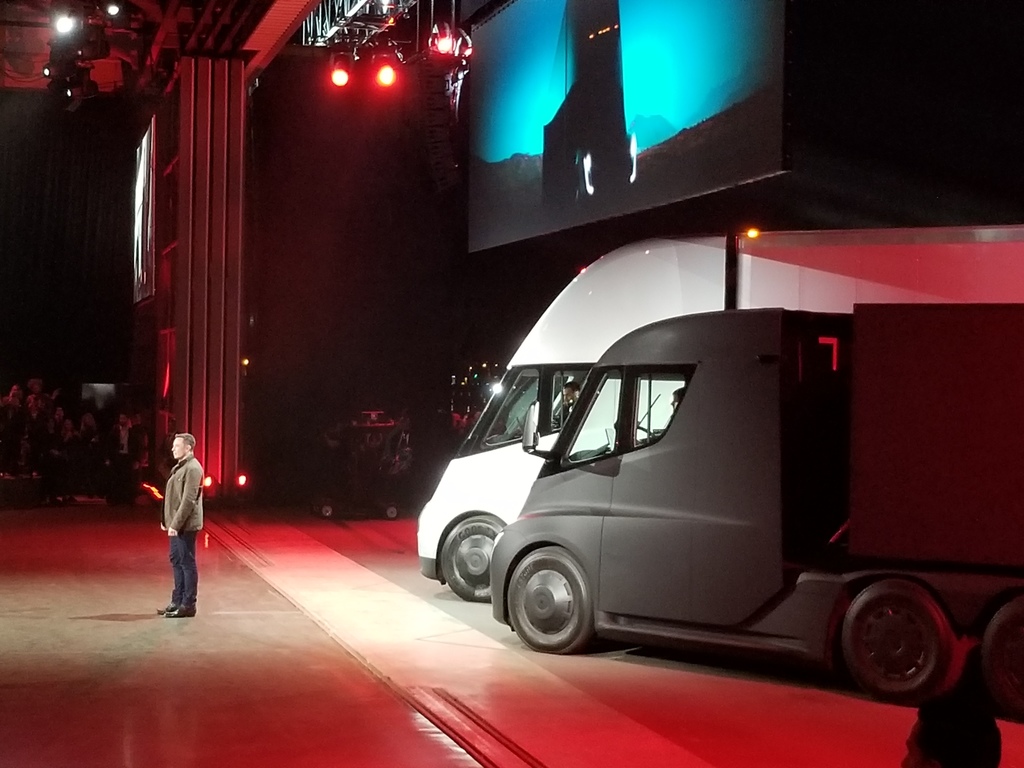 The truck is a massive Class 8 Day Cab, capable of hauling a maximum vehicle weight of 80,000 pounds—pretty much the biggest long-haulers get—for a whopping 500 miles on a single charge, according to Musk. After the airport event, he sent potential fleet customers out in the Semis on endless breakneck loops along the runway. The trucks get to 60 mph just as quick as a Model 3.
Beyond speed, the Semi's range and charging time are significantly better than the expectations of six analysts surveyed by Bloomberg before the event. This means the market Tesla is chasing is wide open. In North America alone, the diesel freight trucks in the Tesla Semi's class account for about $30 billion in sales annually, or more than 250,000 new trucks, according to industry data tracked by Bloomberg.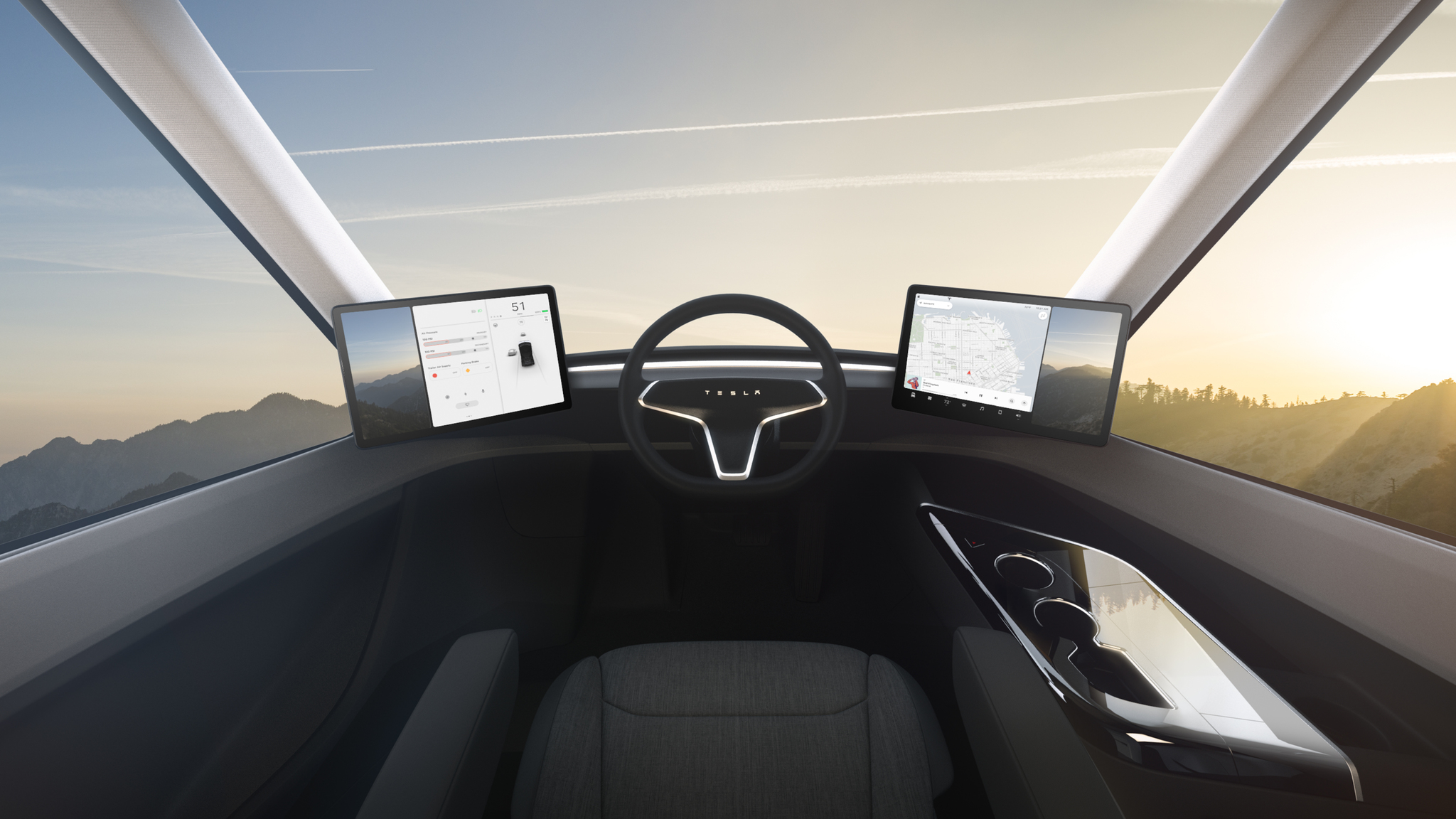 The Semi's specs mean that a driver could put in almost 900 miles a day, only stopping to charge during a 30-minute lunch break, and picking up 400 miles of battery range while eating his sandwich. That's faster than any charger capability today—possibly by an order of magnitude. Moreover, that 900 mile-a-day capacity is actually more driving than U.S. laws allow.  The two prototype Semis on display Thursday were day cabs, but Tesla plans to build a version with a sleeper cabin, too. 
Given the Semi's potential for long-distance hauling, the one remaining hurdle for luring truckers to electric is cost.
Unfortunately, that's something Musk didn't address—at least not completely. While he claimed the truck would offer customers more than $200,000 in fuel savings with an impressive 2-year payback compared with diesel, he didn't disclose many of the assumptions behind those calculations, including the most basic: the upfront cost of the truck. A payback period of of 2 years is exactly what's needed for Tesla to garner a big interest from the freight industry, according to the average of six analysts surveyed before the event. 
Musk said Tesla will guarantee low electricity prices of 7 cents a kilowatt hour, significantly below average U.S. prices, which the company will ensure by deploying solar panels and massive batteries. The truck has a drag coefficient of 0.36, which is sleeker than a Bugatti Chiron supercar. The Semi's wheels, trailer gaps, and undercarriage are sealed up to reduce  drag. 
Tesla has begun taking reservations for the Semi, at $5,000 a piece for delivery in 2019. Bloomberg was first to confirm initial Semi orders, from a Michigan grocery store chain and then from Wal-Mart Stores Inc., Meijer Inc., and J.B. Hunt Transport Services Inc. People familiar with Tesla's Semi program said more companies would be disclosing orders soon. Roadster deposits, meanwhile, start at $50,000 for the $200,000 base model for delivery in 2020.
Both of the vehicles set new records for range and speed, and will become the targets to beat for companies going electric. 
For more on Tesla, check out the   podcast:
More From this publisher : HERE ; This post was curated using : TrendingTraffic
Recommended Products
Tags: business California Consumer Discretionary Elon Reeve Musk Environment Infrastructure MEIJER INC Michigan North America pursuits technology TESLA INC WAL-MART STORES INC
Related Post "Elon Musk Channels Knight Rider With His Roadster-Semi Reveal"