In New Hampshire's Great North Woods, a wilderness of unspoiled lakes and waterfalls just south of Canada, Rick Samson is monitoring a piece of Yale's $25 billion endowment.
From a mud-splattered pickup, Samson, a 71-year-old Coos County commissioner wearing sunglasses, shorts, and a moose T-shirt, watches with disapproval as a pincer mounted on the back of a truck drops logs into another truck at the edge of a clearing about the size of a football field. The area is part of the thousands of acres the university owns in the state. Samson and his passenger, Wayne Montgomery, a 40-year forest industry veteran clad head to toe in khaki, blast Yale's methods. "They're cutting everything, even the growing stock," Montgomery says as he watches the trucks.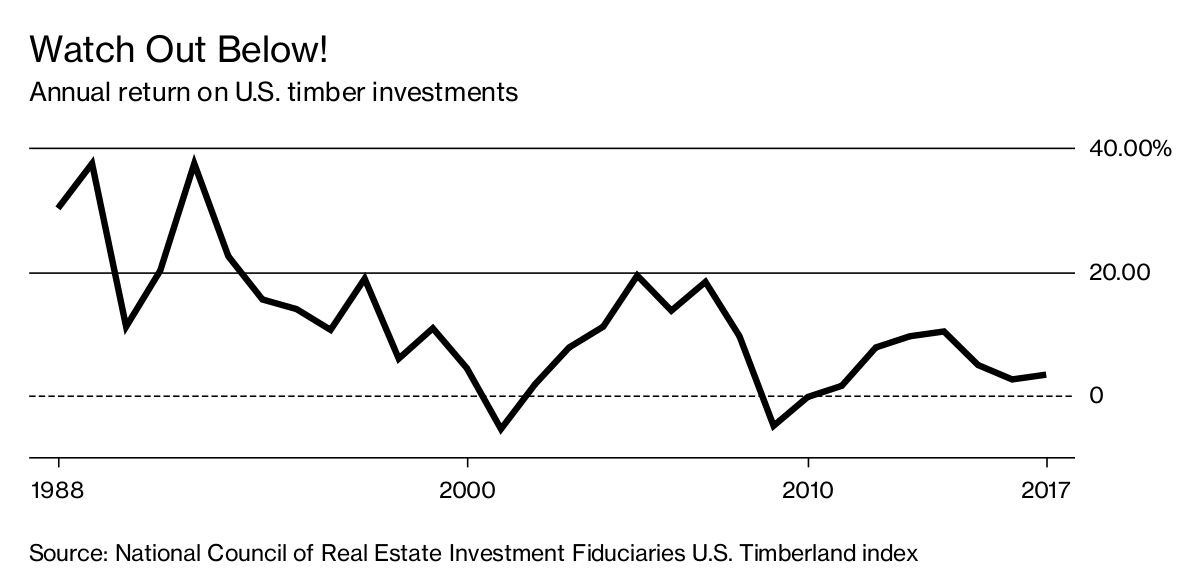 For at least two decades, Yale and its celebrated endowment manager, David Swensen, have led a land rush by the richest colleges. Funds snapped up forests as a way to hedge against inflation and the risks of stocks and bonds, and to take advantage of endowments' unusual ability to make investments that might not be easy to sell quickly. (Unlike most investors, big college endowments have "a time horizon measured in centuries," Swensen once wrote.) It paid off handsomely until recently, when returns slumped and exposed more of the downsides of investments that literally grow. One is reputation risk: Some residents of Coos County and a Canadian First Nations tribe are angry that a company hired to manage Yale's land, Wagner Forest Management Ltd., has signed a lease for a power line that will run through about 24 miles of the university's forests.
Yale declined to comment. It has described its forest management methods as "world-class" and sustainable, and its timber holdings as stellar long-term investments. The university's New Hampshire forest includes an expanse of maple and birch trees open to the public and popular with riders of ­all-terrain vehicles and snowmobiles because of its well-maintained trails. In 2010, Hydro-Québec, a Canadian utility, announced plans for the power line, called the Northern Pass, which would run 192 miles from Quebec to New England.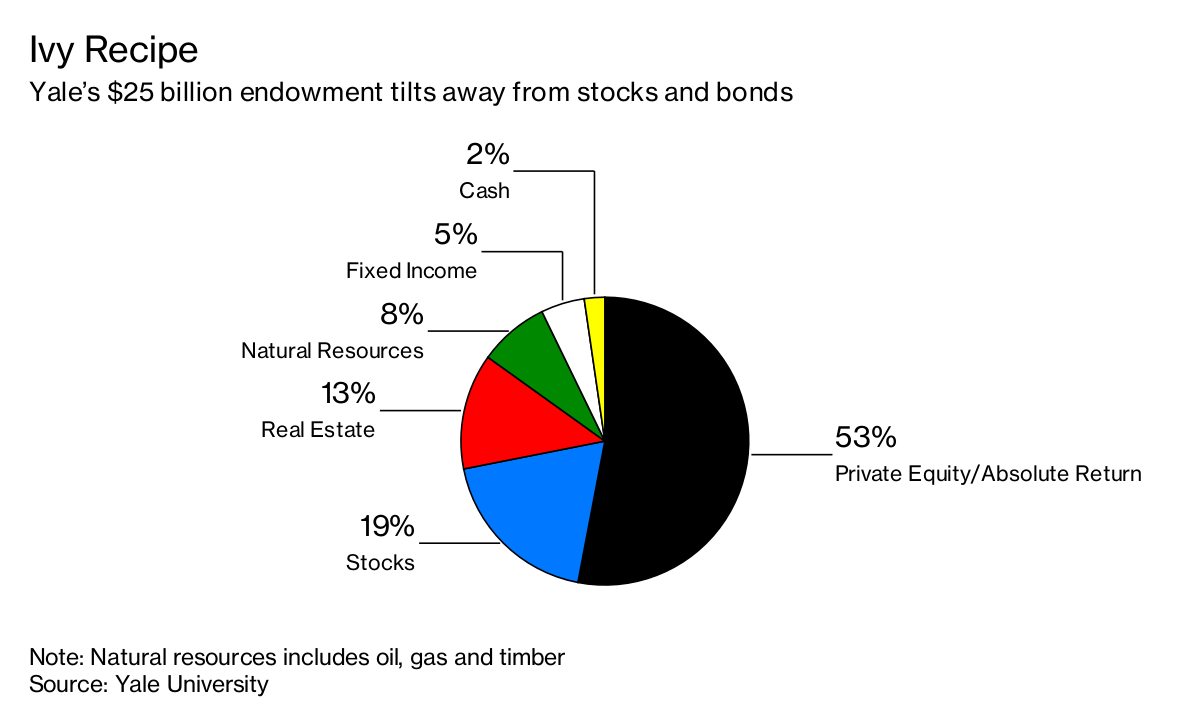 Some living near Yale's land say the line is unnecessary and would destroy scenery. They asked the university to terminate its lease, which was set to expire. Yale said in a June statement it has limited control over such holdings because of partnership agreements, and its land manager couldn't end the contract because the utility had already exercised an option to renew it until 2110. Kaitlyn Woods, a spokeswoman for the Northern Pass project, says trees are already being harvested nearby, and the line won't be visible to tourists or recreational visitors.
The Pessamit Innu tribe in Canada joined the fight, saying the Northern Pass project will lead to flooding on its land and harm to caribou, moose, and salmon populations. The tribe's chief, René Simon, pleaded with Yale's Swensen in a May letter to use his influence to halt the plan, which he described as part of the history of cultural genocide of his people. Simon's lawyer says he never heard back from Swensen, who declined to comment through a spokesperson. A Hydro-Québec spokeswoman says the utility consulted the Pessamit on various issues, and that the line won't have any direct impact on the tribe.
Other colleges have run into trouble with forestry investments, and some are pulling back. Harvard's $35.7 billion endowment sold its Romanian timberland in 2014 after paying inflated prices through an agent it hired who was then convicted of taking bribes from sellers and laundering money. It has been exploring the sale of some natural resources assets and has sold at least one timber plantation this year. A portion of its portfolio has been subject to complaints from environmentalists, who criticized some forestry practices on a plantation in Argentina in 2014. Harvard has said the practices were certified by a forestry council; it declined to comment further.
Wake Forest University is also reducing its timber investments, slashing its commitment to 1 percent of its $1.1 billion portfolio, down from 5 percent about a decade ago, says Jim Dunn, who oversees the school's fund. He cited concern about investment returns. Annual returns for U.S. timberland soared as high as 37 percent in the late 1980s, according to the National Council of Real Estate Investment Fiduciaries. Those outsize profits laid the groundwork for the sluggish appreciation today. A flood of institutional money inflated the price of available forests, depressing potential returns, as slower economic growth reduced demand for wood, according to Jon Caulfield, a University of Georgia professor of forest finance. In the recent fiscal year ended in June, timber returned only 3.6 percent, compared with 15 percent for the S&P 500.
In 2009, Yale said it owned more than 3 million acres, which is roughly the size of Connecticut. The school doesn't break out the value and returns of its timber holdings, concentrated in North America. They're part of its $2 billion natural resources portfolio, which is about 8 percent of its endowment and also includes oil, gas, and mining assets. Over the past 20 years, these investments have posted an average annual return of 16 percent, helping the school outperform almost every other rival. Over the past decade, returns dropped to 6 percent a year.
Samson, the Coos County commissioner, is an opponent of the Northern Pass project. His black pickup has a bumper sticker that reads, "Hydro-Québec … Keep your dam power." He's also criticizing Yale for what he considers too-aggressive cutting. In 2009, Bayroot LLC, the Yale-controlled company that owns the woods, entered into an agreement with the Maine Forest Service to resolve alleged violations involving clear-cuts that the state said had inadequate buffers of trees around them and lacked plans prepared by a licensed forester. "Clear-cutting can either be appropriately or inappropriately used as a management technique, for example as a way to improve forest conditions, including wildlife habitat and forest production," says Alec Giffen, the ­director of the forest service at the time and now a senior adviser to the New England Forestry Foundation, a nonprofit land trust. "But they didn't meet the requirements of the law in this case."
Robert Perschel, executive director of NEFF, says hearing complaints about Yale's stewardship has been "disappointing and frustrating." Perschel is a graduate of Yale College and the university's forestry school, which he says teaches how to manage forests for environmental values as well as high timber yields. "We had hoped the Yale endowment's forest ownership in New England would be a shining light," Perschel says. "It still can be."
In a June statement, Yale said Wagner, the land manager, meets strict standards for sustainability and "works closely with major conservation organizations." The university said in 2009 that 99 percent of its acreage was certified by two of the most prominent forest certification organizations in the U.S. Wagner didn't return calls for comment.
In May, Samson and Montgomery drove to Yale's New Haven campus, where about 50 students showed up during finals to watch a presentation critical of the college's forestry and the power line and sponsored by a student environmental group and graduate students who are members of a union seeking the right to bargain with the university. In June and July, students traveled to New Hampshire's capital to make their voices heard at public hearings. "Yale can't teach anyone to be a responsible member of their community until it acts like a responsible member of its own c­ommunities," Hannah Schmitt, a Yale senior, told a state committee that's expected to make a decision on the line this fall.
Samson and Montgomery like to bolster their case by taking visitors from Yale and elsewhere on rides through the forest. Samson used to work as a utility line worker and a technician at a paper mill. On an August morning, he's driving when Montgomery spots tire tracks on a dirt road. He tells Samson to slow down when he spies a massive yellow ­"de-limber." It looks like a construction excavator with teeth, as it shears branches from felled trees that will go to a mill. "They're squeezing every ounce of value they can," Samson says.
BOTTOM LINE –
College endowment funds snapped up timber for higher returns. But the gains are less impressive now, and there are reputational risks, too.
More From this publisher : HERE
Recommended Products
Tags: businessweek-magazine
Related Post "Why Yale Owns a Forest"